Don't fret, Canadians. All hope is not lost.
A Canadian team hasn't brought home a Stanley Cup in 21 years, since the Montreal Canadiens defeated the Los Angeles Kings in 1993, but plenty of Canadians will bring home the Cup this summer.
With the Stanley Cup Final starting Wednesday, there will be plenty of Canadian-born hockey players taking to the ice, even though they will be dressed in Los Angeles King and New York Ranger sweaters.
The Kings roll out a roster of 14 Canadian-born players, edging the Rangers by one, eh.
Both finalists had two players win gold medals with Team Canada at the 2013 Sochi Olympics. Kings Jeff Carter and Drew Doughty were both born in London, Ont. Rangers Martin St. Louis, a native of Laval, Que., and Rick Nash from Brampton, Ont., will face off against their national teammates.
And let's not forget that both head coaches — Alberta's Darryl Sutter and Quebec's Alain Vigneualt — hail from north of the border.
Ontario is doing something right, producing nine players for the Kings and eight for the Rangers out of a total 27 Canadians listed on the teams' full rosters. But only one Canadian has a chance to win his third Stanley Cup.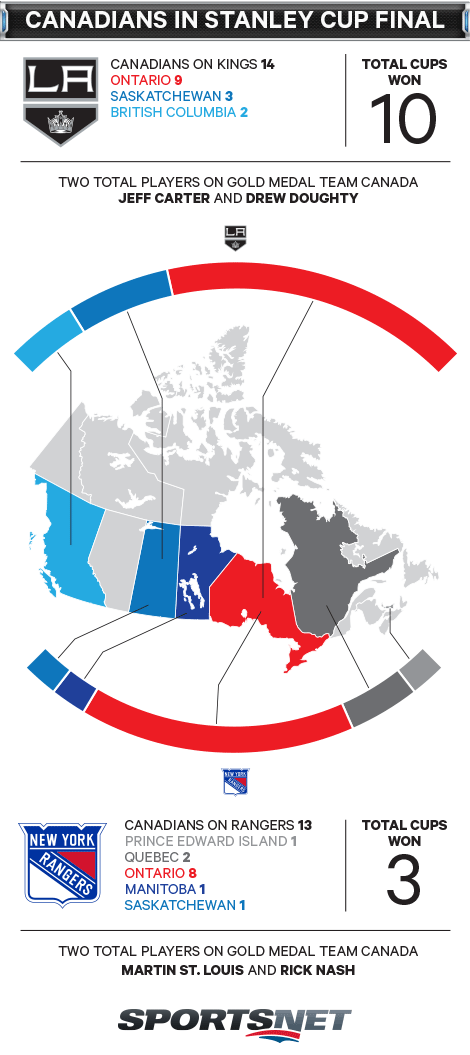 Canadians in the Stanley Cup Final
New York Rangers
Derick Brassard #16, Forward
Born: Hull, Que.
Age: 26
Playoff goals: 5
Playoff assists: 4
Stanley Cups: 0
Daniel Carcillo #13, Forward
Born: King City, Ont.
Age: 29
Playoff goals: 2
Playoff assists: 0
Stanley Cups: 1, Chicago 2013
Derek Dorsett #15, Forward
Born: Kindersley, Sask.
Age: 27
Playoff goals: 0
Playoff assists: 1
Stanley Cups: 0
Dominic Moore #28, Forward
Born: Thornhill, Ont.
Age: 33
Playoff goals: 3
Playoff assists: 4
Stanley Cups: 0
Rick Nash #61, Forward
Born: Brampton, Ont.
Age: 29
Playoff goals: 3
Playoff assists: 7
Stanley Cups: 0
Benoit Pouliot #67, Forward
Born: Alfred, Ont.
Age: 27
Playoff goals: 3
Playoff assists: 5
Stanley Cups: 0
Brad Richards #19, Forward
Born: Murray Harbour, P.E.I.
Age: 34
Playoff goals: 5
Playoff assists: 6
Stanley Cups: 1, Tampa Bay 2004
Martin St. Louis #26, Forward
Born: Laval, Que.
Age: 38
Playoff goals: 6
Playoff assists: 7
Stanley Cups: 1, Tampa Bay 2004
Justin Falk #44, Defence [reserve]
Born: Snowflake, Man.
Age: 25
Playoff goals: 0
Playoff assists: 0
Stanley Cups: 0
Dan Girardi #5, Defence
Born: Welland, Ont.
Age: 30
Playoff goals: 1
Playoff assists: 6
Stanley Cups: 0
Kevin Klein #8, Defence
Born: Kitchener, Ont.
Age: 29
Playoff goals: 1
Playoff assists: 3
Stanley Cups: 0
Marc Staal #18, Defence
Born: Thunder Bay, Ont.
Age: 27
Playoff goals: 1
Playoff assists: 4
Stanley cups: 0
Cam Talbot #33, Goalie
Born: Caledonia, Ont.
Age: 26
Playoff GAA: 2.61
Playoff minutes: 46
Stanley Cups: 0
Los Angeles Kings
Jeff Carter #77, Forward
Born: London, Ont.
Age: 29
Playoff goals: 9
Playoff assists: 13
Stanley Cups: 1, Los Angeles 2012
Kyle Clifford #13, Forward
Born: Ayr, Ont.
Age: 23
Playoff goals: 0
Playoff assists: 3
Stanley Cups: 1, Los Angeles 2012
Dwight King #74, Forward
Born: Meadow Lake, Sask.
Age: 24
Playoff goals: 2
Playoff assists: 6
Stanley Cups: 1, Los Angeles 2012
Jordan Nolan #71, Forward
Born: St. Catherines, Ont.
Age: 24
Playoff goals: 0
Playoff assists: 0
Stanley Cups: 1, Los Angeles 2012
Tanner Pearson #70, Forward
Born: Kitchener, Ont.
Age: 21
Playoff goals: 4
Playoff assists: 8
Stanley Cups: 0
Mike Richards #10, Forward
Born: Kenora, Ont.
Age: 29
Playoff goals: 2
Playoff assists: 6
Stanley Cups: 1, Los Angeles 2012
Jarret Stoll #28, Forward
Born: Melville, Sask.
Age: 31
Playoff goals: 2
Playoff assists: 2
Stanley Cups: 1, Los Angeles 2012
Tyler Toffoli #73, Forward
Born: Scarborough, Ont.
Age: 22
Playoff goals: 7
Playoff assists: 6
Stanley Cups: 0
Justin Williams #14, Forward
Born: Cobourg, Ont.
Age: 32
Playoff goals: 7
Playoff assists: 11
Stanley Cups: 2, Carolina 2006, Los Angeles 2012
Drew Doughty #8, Defence
Born: London, Ont.
Age: 24
Playoff goals: 4
Playoff assists: 12
Stanley Cups: 1, Los Angeles 2012
Brayden McNabb #43, Defence [Reserve]
Born: Davidson, Sask.
Age: 23
Playoff goals: 0
Playoff assists: 0
Stanley Cups: 0
Willie Mitchell #33, Defence
Born: Port McNeill, B.C.
Age: 37
Playoff goals: 0
Playoff assists: 2
Stanley Cups: 1, Los Angeles 2012
Jake Muzzin #6, Defence
Born: Woodstock, Ont.
Age: 25
Playoff goals: 5
Playoff assists: 6
Stanley Cups: 0
Martin Jones #31, Goalie
Born: North Vancouver, B.C.
Age: 24
Playoff GAA: 0.00
Playoff minutes: 56
Stanley Cups: 0
Share