More than 350,000 front line workers in the province are now eligible for a pay raise of $4 per hour but it appears paramedics are not among them.
On Saturday, the Ford government announced the 'pandemic payment' for the next four months which would see eligible employees working over 100 hours per month receive lump-sum payments of $250 per month and those working an average of 40 hours per week getting an additional $3,560 in compensation.
However, paramedics are not on the list of workers and workplaces eligible for the payment.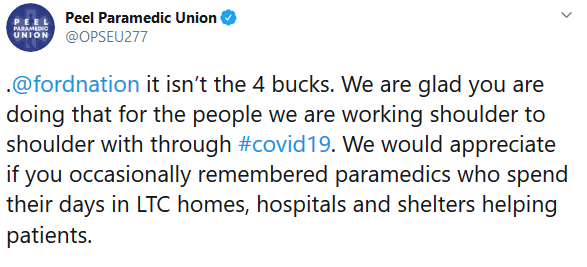 Dave Wakely, the president of the Peel paramedics union, says it's not about the pay increase but about the lack of acknowledgment.
"It doesn't seem to be any rhyme or reason as to why certain folks are excluded from it," he said. "Paramedics, respiratory therapists midwives – all of whom don't seem to be covered by this status of front line health care worker but all of whom are very much on the front lines in the fight against COVID."
Wakely adds he hopes the exclusion was an oversight and that the province's list of qualified staff is still being finalized.
"Paramedics are always going to be there for people and it's going to take more than an act of disrespect on behalf of the provincial government to make us stop doing our job."
Under "health care and long-term care," eligible workplaces include acute hospital, long-term care homes, licensed retirement homes, and home and community care. Among the eligible workers in this category are PSW's, registered nurses, registered practical nurses, nurse practitioners, attendant care workers, developmental services workers, mental health and addiction workers and auxiliary staff that includes porters, cooks, custodians, housekeeping and laundry services.
In a statement Sunday night from Hayley Chazan, spokesperson for Health Minister Christine Elliott's office, the government said they stand behind their frontline workers.
"We're continuing to consult with our health care partners to address questions and determine who might meet the criteria for pandemic pay," she said.