Remaining protesters vow to stay in Ottawa until all COVID restrictions are lifted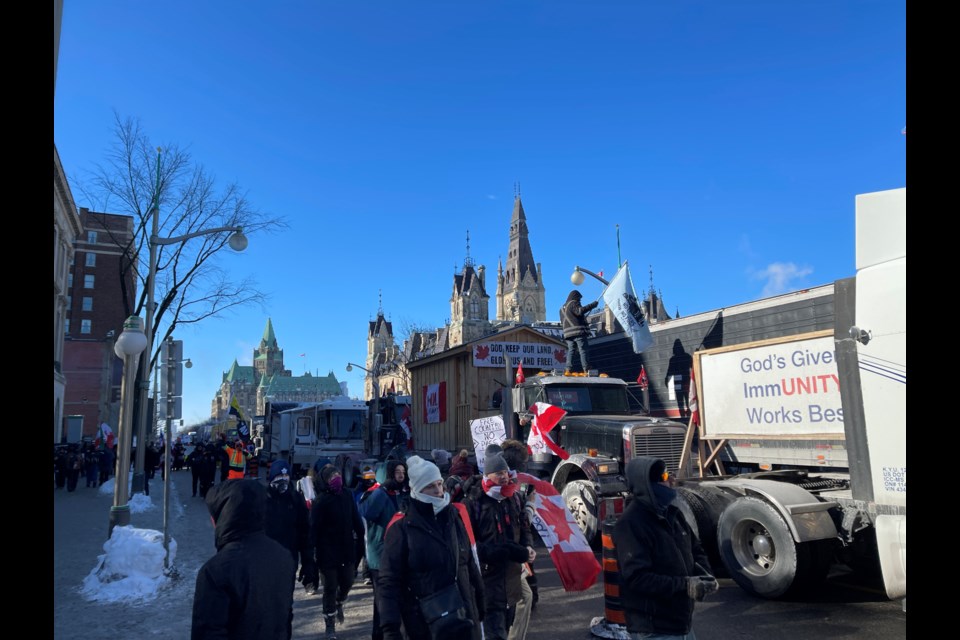 Posted February 1, 2022 6:08 am.
Last Updated February 1, 2022 10:38 am.
Crowds have thinned out considerably on Parliament Hill and the surrounding area, where anti-COVID restrictions protests are now entering their fourth day.
Protesters who remain in downtown Ottawa say they are staying put until all mandates are lifted as residents and business owners in the area grow increasingly frustrated with the traffic gridlock and noise.
Ottawa Police Chief Peter Sloly says he cannot say when the protest will end but the rally has been scaled down over the past day.
"We've reduced the size of the demonstration significantly," Sloly said. "We will continue to do so in the hours and days ahead of us."
"Every effort at negotiation, coordination and de-escalation will continue until the complete end of this demonstration."
The president of the Ottawa-Gatineau Hotel Association says some protesters have been extending their stays at hotels, or are asking to rebook for the coming weekend.
---
Ottawa Mayor Jim Watson is urging the protesters to move on and says the city will continue to encourage people to leave without inflaming the situation.
"These people came with a lot of fire in the belly and looking for a fight," said Watson. "The last thing we need is to have some behaviour that creates a mini-riot on the hill."
Police are still advising residents to avoid the downtown core where trucks from the protest convoy continue to block roads and many businesses remain shuttered. The force estimated the cost of the massive policing effort at more than $800,000 per day.
---
---
Prime Minister Justin Trudeau said Monday that he will not meet with anyone involved in the rally and condemned the actions of some involved.
A number of criminal investigations over incidents that took place during the weekend protests are underway, including the "desecration" of some monuments. Photos surfaced of a flag with a swastika being waved during the rally and staff at an Ottawa homeless shelter say they were harassed by protesters on Saturday who were demanding meals from the shelter's kitchen.
"We are not intimidated by those who hurl insults and abuse at small business workers and steal food from the homeless," said Trudeau. "For those responsible for this behaviour, it needs to stop."
---
The Ottawa Paramedic Association reported that paramedics asked for police escorts after rocks were hurled at an ambulance from a truck in the convoy.
Conservative Deputy Leader Candice Bergen argues that Trudeau was "gaslighting" the protesters, who deserve the chance to be heard. She said the protesters she met with from her home province of Manitoba on Sunday are "good people, patriotic, peace-loving."
A hotline has been set up by Ottawa Police to report any instances of hate during the demonstrations.
---
With files from CityNews reported Laura Carney and the Canadian Press