EDMONTON (CityNews)- Edmonton police are still looking for 29-year-old Amin Yussuf, who is a suspect in the shooting of 26-year-old Abubeker Gemechu Abduraman, last March.
He reportedly has connections to Edmonton; Prince Albert, Sask.; Toronto; Yellowknife and Hay River, N.W.T.
Edmonton police say Yussuf remains wanted on Canada-wide warrants for first-degree murder, attempted murder using a firearm and unauthorized possession of a firearm.
On Mar. 24, 2019, Edmonton police responded to a weapons complaint. Upon arrival, police found Abduraman dead inside the lounge.
Two other people also sustained non-life-threatening injuries after being shot.
Yussuf is described as approximately with brown eyes and black hair. Is approximately six feet tall and weighs 180 pounds.
He was born in Toronto and speaks English. His last known residence was in Edmonton.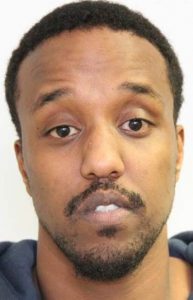 He also has been known to go by Abdirizak Yussuf, Craig Yussuf, Mohemed Yussuf, Mohemed Mohamed and Mohammed Farrah.
EPS has partnered with the 'Be On The Lookout' Program to complement police efforts in locating Yusssuf. In cooperation with Crime Stoppers Edmonton, the Bolo Program may offer a reward of $50,000 for any information leading to the arrest of Yussuf.
He is considered armed and dangerous, and should not be approached.
Investigators are asking if anyone has any information regarding Yussuf or his whereabouts, to contact EPS at 780-423-4567 or Crime Stoppers at 1-800-222-8477 or online.