A man who refused to wear a mask in a Mississauga grocery store, claiming he suffers from asthma, unleashed a racist tirade at store employees telling them to "go back to China" in an incident that was captured on video.
The video was posted to YouTube on Tuesday.
T&T Supermarket in Mississauga confirmed that the confrontation took place at its store at 715 Central Parkway West in Mississauga on July 5.
Peel police say they are aware of the incident and it is being investigated as a hate-motivated incident.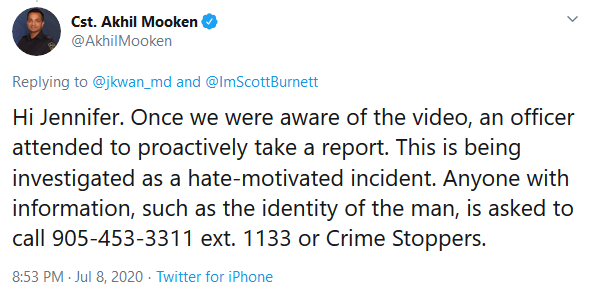 The nearly four-minute video begins with the man, who appears to be shopping with an Asian woman, talking to a female employee about the store's mandatory mask policy.
Masks have been mandatory for store employees since March 19 while customers have been required to wear a face covering since May 11.
The man suddenly dumps his items on the ground and begins walking away, telling the employees that he's "going to have the media here."
"You guys can all wear your masks and you can all die," he says. "When you wear the masks you get sick, it's science."
The man's anti-mask stance quickly evolves into a racist rant directed at the store's Asian employees.
"Where did we get our Wuhan communist virus? From China, from you guys," the man stated as several employees walked over to try and urge him to leave the store.
When a male employee asks him to avoid yelling, the man repeatedly asks him: "Where are you from?"
"I'm Canadian," the employee responds.
The man continues to rant against the use of masks, saying "you get sick with the masks, you're breathing in old air."
When the man continues to blame "communist China" for the virus, the male employee responds, "We are Canadian, sir."
"You're Canadian?" the man responds in disbelief. "You're as Canadian as my butt."
"I'm Canadian! I'm Canadian!" the upset employee declares.
As staff direct the man to the exit, he continues to shout that he has asthma while blaming China for the coronavirus.
"I'm Canadian," the male employee once again stresses, raising his hands above his head in a non-threatening gesture.
"Go back to China where you came from," the irate man yells, "and take your coronavirus back to Wuhan. You're Canadian eh? And I'm Chinese."
After more words are exchanged, the man finally leaves.
In a statement (posted below), T&T CEO Tina Lee said the man was combative with store staff and other customers before the video began.
"The customer was arguing with another customer and store colleagues for several minutes prior to the video footage. When politely asked to wear a mask, which is store policy, the man initially refused because he said it was ineffective. He then became irate and aggressive, claiming to have allergies and then proceeded to claim he and his friend both had asthma."
"These types of incidents are rare," she added, "and we believe most Canadians do not share the same view."
2020.7.8 Anti-mask Incident Statement From TT CEO by CityNewsToronto on Scribd
Mississauga City Council passed a bylaw on Wednesday making masks mandatory in most indoor spaces.
It goes into effect on Friday.
But even without a bylaw in place, Peel Const. Akhil Mooken said private businesses can make their own rules regarding masks.
"Like any private property … the business owners are in fact allowed to create rules that people must follow," he said. "If a business decides to say that any customers or employees must have a mask, that is the right of that business to be able to create those rules and those rules are set as part of the Trespass of Property Act and there can be enforcement that's taken.
"If a customer comes into a private business and refuses to follow the rules that have been clearly defined, then they can be asked to leave the premise."
Mississauga Mayor Bonnie Crombie addressed the incident later Wednesday.
"Racist, hurtful and divisive comments like these have absolutely no place in our City and are frankly appalling." she said.
"We pride ourselves on our diversity; it is what makes our City one of the best places to live in the world. To those who seek to divide us, I send a strong message that you are not welcome in Mississauga."