Joly pledges foreign-service reboot in which diplomats better grasp languages, topics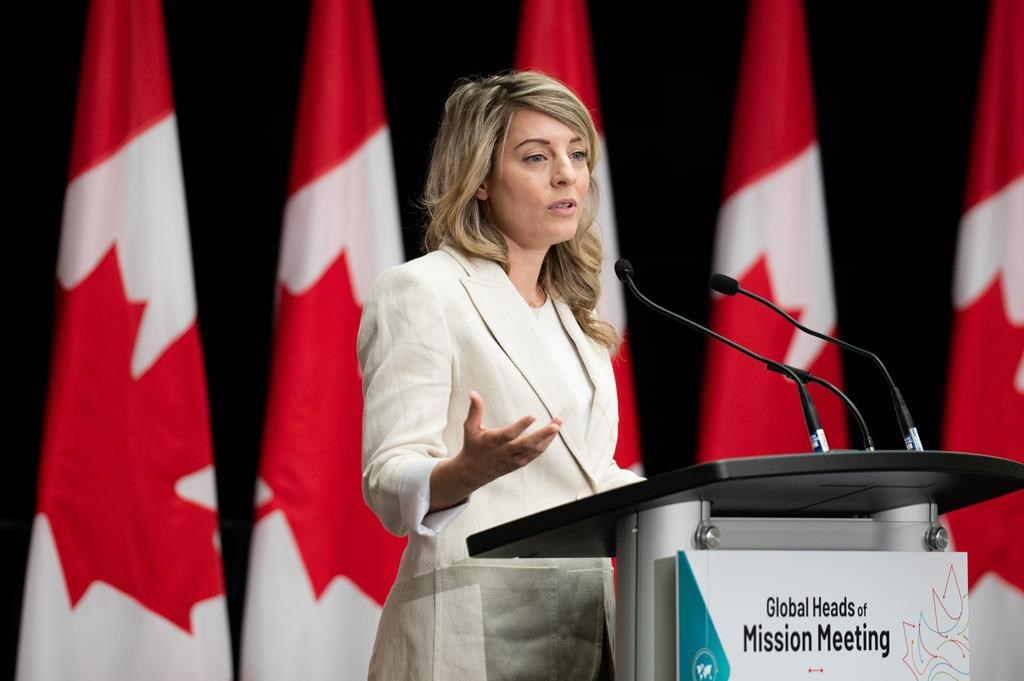 Posted June 7, 2023 5:12 pm.
OTTAWA — Foreign Affairs Minister Mélanie Joly is promising a plan by this fall for a foreign-service reboot in which diplomats will have a better grasp of the languages and topics relevant to their postings.
"Ensuring that we have a modernized diplomacy, fit for purpose — fit for the 21st century — is crucial," Joly said in a speech to Canadian ambassadors in Ottawa Wednesday morning.
"Ahead of us is a once-in-a-generation challenge, and how we will respond will define the next decades."
The minister is promising an implementation plan by Sept. 1 on a reboot to how Global Affairs Canada hires people, manages its staff and internal systems and prioritizes resources. The plan would include an update on progress every six months through 2026.
The move comes as the world is beset by new conflicts, climate change and rising authoritarianism, and following a series of embarrassing incidents and reviews within Global Affairs Canada.
Last fall, a public-service commissioner found the department broke federal rules by promoting an executive who slapped and pushed her staff.
A report last August by the University of Ottawa's Centre for International Policy Studies found just 23 per cent of diplomats in positions that require a foreign language actually met the proficiency requirements, a compliance rate that drops to 18 per cent among those with executive-level positions.
And in a months-long Senate study, current and past diplomats testified that Canada does not adequately prioritize having foreign-service officers or trade commissioners specialize in a region, language or topic. Instead, Global Affairs Canada shuffles them between a variety of roles in Ottawa and world capitals.
Meanwhile, the department suffered a hack last year that Ottawa has not officially attributed to any specific actor.
Joly said she has tasked the department with updating its cybersecurity, as well as how it supports diplomats and foreign staff hired to work in missions abroad.
"Ensuring they feel supported, heard, valued is needed to improve our workplace culture. We know that there's a need to revamp recruitment and training to increase diversity," she said.
"We need to invest in our workforce. Our people are our ears and eyes on the ground."
Joly released a 30-page report called the Future of Diplomacy, which notes Canada has a comparatively small presence at the United Nations and in what she calls "strategically important countries."
"The department has sometimes been slow to react, or not focused enough on emerging issues," reads a draft of the report, which was provided to reporters but had not been made public as of Wednesday afternoon.
"Many of the constraints that hobble Global Affairs Canada are self-imposed," it says, noting "unintended consequences of a corporate culture that is too risk-averse."
The report says Canada's foreign service has had relatively stable staffing over years, despite "the virtual halting of entry-level and other recruitment into foreign service positions for over a decade because of financial constraints." 
It notes allies have been hiring more diplomats in recent years, with France pledging this year to boost its foreign service by 20 per cent.
The report does not specify which embassies and missions could receive new diplomatic postings. 
But Joly did say that Canada will have more specialized diplomats.
"We will increase our policy expertise in key areas such as climate change, energy and critical minerals, (artificial intelligence), cyber and digital policy," Joly said.
"We will build a stronger capacity to anticipate and manage Canada's response to prolonged crises."
The report seeks "a workforce that is diverse, highly skilled, bilingual, healthy and committed to excellence," noting there are current lapses in the department's pursuit of that goal. 
It also demands "zero tolerance for toxic behaviour," and notes that the department must move past an assumption that married diplomats will have an unpaid spouse take care of domestic duties.
"Senior executives across the department should be held accountable for ensuring an equal use of French and a functionally bilingual environment," the report says.
"Global Affairs Canada has kept its circle of trusted partners a small one," it reads, calling for better collaboration with other departments, diaspora groups and academia.
Conservative foreign-affairs critic Michael Chong said the Liberals waited far too long since taking office to issue such a review. He said he was alarmed that Wednesday's report lacked clear targets around the number of diplomats needed or how much money should be spent.
"You need to have clear targets and clear goals, otherwise nothing will be achieved," he said.
Chong said he was also unimpressed that the report seemed to double down on the need for a bilingual foreign service, noting that many countries do not use French and requiring proficiency in the language disadvantages people who speak English and grew up in homes where Asian languages were spoken.
"The recruitment problems are results of language-competency requirements, so those are really the opposite of what is needed," he argued.
"Merit needs to be focused on, as the foundational principle of recruitment and of promotion in the public service."
Wednesday's draft report also calls for long-term thinking, such as a surge capacity crisis group that can respond to protracted global events that continue to concern Canada even after initial consular evacuations and humanitarian response. 
The report notes that recent upheaval in Sudan and Afghanistan is likely to persist for months.
It also calls for a centre for developing policy with "thought leaders" that is "insulated from the demands of daily departmental operations."
The report says it drew from 80 interviews with department staff and what it said were more than 9,000 ideas and submissions.
Canada last undertook a foreign-service review in 1981, and senators have argued that many of the issues raised in a royal commission still resonate four decades later.
This report by The Canadian Press was first published June 7, 2023.
Dylan Robertson, The Canadian Press
Note to readers: This is a corrected story. A previous version incorrectly stated that Ottawa attributed a hack at Global Affairs Canada to Russia last year.