We've heard ad nauseum how much we've learned from the 2003 SARS outbreak.
Thanks to our experience with SARS, health officials insist we're now better prepared to identify, treat and contain the latest bogeyman of infectious respiratory diseases — novel coronavirus.
But SARS also taught us how fear spreads faster than any illness, and how quick we are to condemn entire communities, casting suspicious glances that linger in the recipients long after the dreaded illness has been eradicated.
Nowhere is that fear more evident than in Toronto's Chinatown neighbourhood.
It's what prompted then-prime minister Jean Chretien to dine at a Chinatown restaurant in Toronto in the midst of the SARS outbreak, hoping to help shake the stigma. And it's what's now prompting local city councillors like Joe Cressy and Kristyn Wong-Tam to speak out as escalating coronavirus fears seem to zero in on Toronto's Chinese community.
Cressy, who is also chair of the Board of Health, insists there's no reason to avoid Chinatown.
"Residents of our city should feel just as comfortable going out and having lunch and dinner in Yorkville … as they do in Chinatown," he said.
"Nobody should feel any need to avoid any part of this city," he added, stressing that the risk of contracting coronavirus anywhere in Canada "remains extremely low."
"We cannot say this loudly enough — it is not only inappropriate, but wrong to stereotype Chinese Canadians."
The shadow of SARS
Wong-Tam was president of the Toronto chapter of the Chinese Canadian National Council during the SARS outbreak and saw first-hand how the Chinese community suffered under searing suspicion.
She released an impassioned statement Tuesday, expressing her concerns that the Chinese community would once again shoulder the brunt of the public's paranoia.
"The City of Toronto learned a lot about infectious disease management in the aftermath of the severe acute respiratory syndrome (SARS) outbreak in 2003," she wrote.
"I am hoping that we have also learned how uninformed fears can perpetuate racist stereotypes and other anti-Chinese discrimination."
"Chinatowns across the city saw revenues drop, as people allowed their fear of SARS, and their prejudices about its transmission to drive them away from Chinese-operated businesses."
Wong-Tam spoke out about those concerns at Toronto City Hall on Wednesday.
"At this point in time given what is happening in Toronto and across the country, there will probably be more harm caused by racism, xenophobia, discrimination, harassment, racial taunts, directed specifically to the Chinese Canadian community and others of Asian descent — than we will be harmed by the coronavirus."
Councillor Kristen Wong Tam says at time of uncertainty, people look for blame, but its important to not fall victim to that. pic.twitter.com/dUUQmE0y7q

— Momin Qureshi (@Momin680NEWS) January 29, 2020
Chinatown Business Improvement Area (BIA) chair, Tonny Louie, said he's already seen business drop off dramatically due to coronavirus fears.
"Any time you have a contagious disease people are very fearful, they don't want to catch it. That's normal," Louie said. "It's like a snowstorm — people don't come out when there's a snowstorm."
Louie said Lunar New Year's celebrations at Dragon City Mall in Chinatown dropped by about a third after the first case of coronavirus was confirmed last Saturday.
"On Sunday the turnout stopped."
Masking fear
Louie also noted how quickly protective masks are flying off the shelves in Chinatown.
"That shows you that people are concerned," he said. "It's not a pretty site to be wearing a mask, but they want protection."
Cressy said there's no need to wear a mask, noting the expert opinion that "there is no health benefit associated with them."
Verna Wang, manager of Chinatown restaurant Qin's Garden, said she's not surprised to see so many people donning the masks despite their questionable effectiveness.
"Most of our Chinese customers, they are international students, (their) parents are in China and they suggest to them to just wear masks and be careful when you go outside and if you can, cook at home maybe."
Wang said she's seen a drop in customers at the restaurant, but notes that deliveries are up as more people avoid venturing out for dinner.
Janice Rudkowski, an assistant professor at the Ted Rogers School of Retail Management, said technological advances will help Chinatown restaurants survive the coronavirus setback.
"Absolutely there's an impact to retail businesses. I think if we look back to the SARS pandemic we did see some impact to retailers, to restaurants."
"We are in a much different situation today," she added. "With restaurants we have so many different online apps … and that really changes how people dine as well, they may not want to go to an actual restaurant, but they can still have the food in the comfort of their own home."
"So I think that provides (them) with a bit of a cushion to weather the storm a little bit."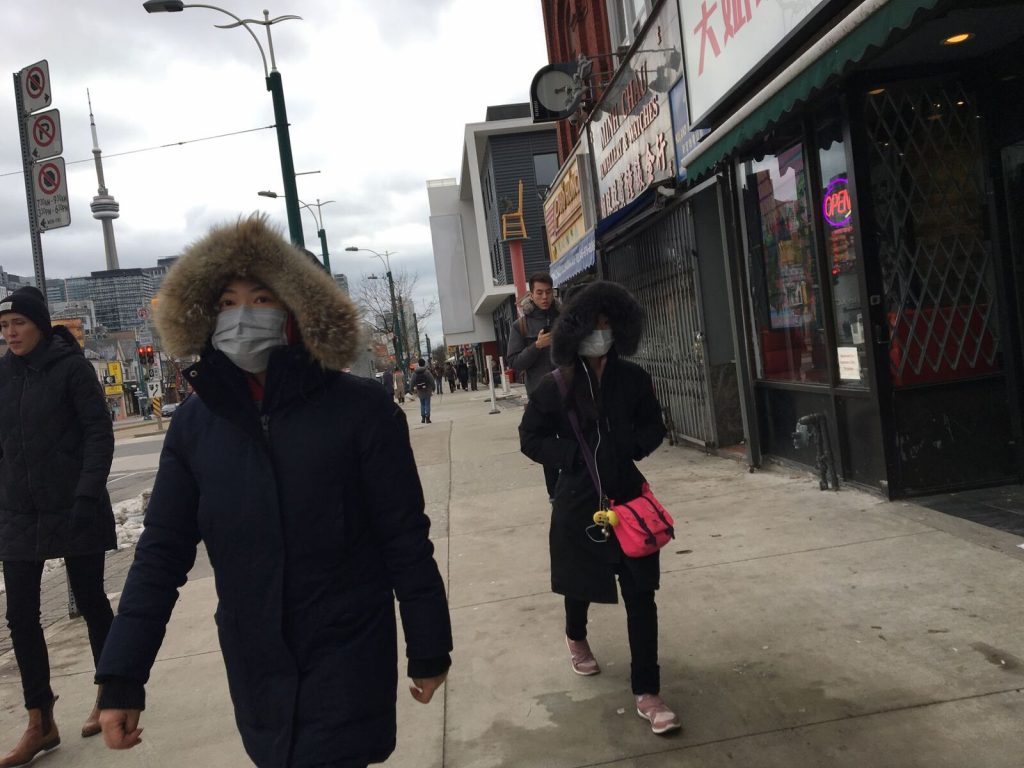 'They are afraid for sure'
Winny Weng, at New Sky restaurant, said her loyal Chinese customers continue to dine out, but she's seeing fewer tourists.
"I think with the tourists, there's more of a difference, they are afraid for sure.
"It's very safe here," she stressed. "In Canada, it's safe."
Lili Tran is the retail manager at Chinatown's Tap Phong Trading. She said they quickly sold out of masks, and she believes many were buying masks to send back to family in China, where the virus has so far killed more than 130 people.
"The first few cases (of masks) that we had flew off the shelves, and that was it," she said. "And we did try ordering more ourselves and the supplier said that there's none to be had.
"In terms of people buying the masks I think what's happening is it's more relatives that are living here trying to buy it and send it abroad to their relatives. I think that's the case. It's more for their relatives over in China."
She also said business dropped immediately after the first case of coronavirus was confirmed.
"People weren't really out and about much, like how it was during the SARS epidemic, a lot of people trying to avoid Chinatown because fear of it obviously being predominantly Asian, and a lot of the Asian communities are the affected demographic. I think a lot people were fearing for that."
'The whole Chinese community will be branded'
Despite assurances from health officials that the risk of contracting coronavirus remains low, Chinatown in on edge.
SARS, which killed 44 Canadians, continues to cast a foreboding shadow on the neighbourhood.
Amy Go, president of the Chinese Canadian National Council for Social Justice, said the emergence of coronavirus has the Chinese community reliving the trauma of SARS.
"As Chinese Canadians we have had a very negative experience during SARS," she told CityNews. "People were not going to Chinese restaurants, people were not going to shopping malls."
"Immediately because of racism and discrimination, the whole Chinese Canadian community will be branded as potential carriers of this virus."
One thing we learned from SARS: the economy may recover, but the psychological scars linger.