5 arrested during rally at Toronto factory that protesters claim helps arm Israeli military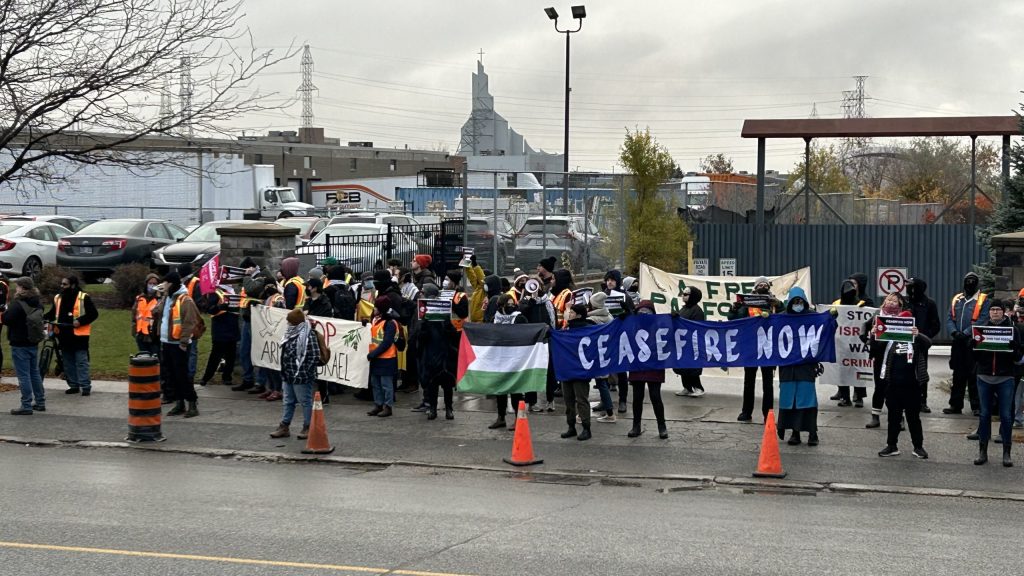 Posted October 30, 2023 1:20 pm.
Last Updated October 30, 2023 1:35 pm.
Five people were arrested as demonstrators calling for ceasefire in Gaza rallied outside a factory in North York on Monday morning.
Toronto police say the arrests were made during a demonstration outside the INKAS Armored Vehicle manufacturing plant near Weston Road and Finch Avenue. Organizers of the rally claim the company is helping arm the Israeli military.
Police tell CityNews five people were arrested and removed from the premises. They were all released with a provincial offence notice for trespassing.
The group 'World Beyond War' say the protest was organized to demand the Canadian federal government call for an immediate ceasefire in the Israel-Hamas war and to try to cut off the flow of weapons to the region.
One of the organizers confirmed to CityNews that the group was on hand to form a blockade early Monday to try to prevent workers from entering the factory.
"We refuse to stand by as businesses in our neighborhoods and across Canada are arming and making a fortune off of carnage in Gaza and the massacre of thousands of Palestinians," said Rachel Small, organizer with World Beyond War, in a statement.
According to the INKAS website, the factory makes armed cars and bulletproof vehicles. They also have a plant in Israel.
Police say the remaining demonstrators were asked to leave the property following the arrests.
No injuries were reported.
More than 10,000 have been killed in the latest Israel-Hamas war.
The death toll among Palestinians passed 8,300, the Gaza Health Ministry said Monday. Over 1,400 people have died on the Israeli side, mainly civilians killed during Hamas' initial attack on Oct. 7.