Environment groups say Bay du Nord approval flawed, must be overturned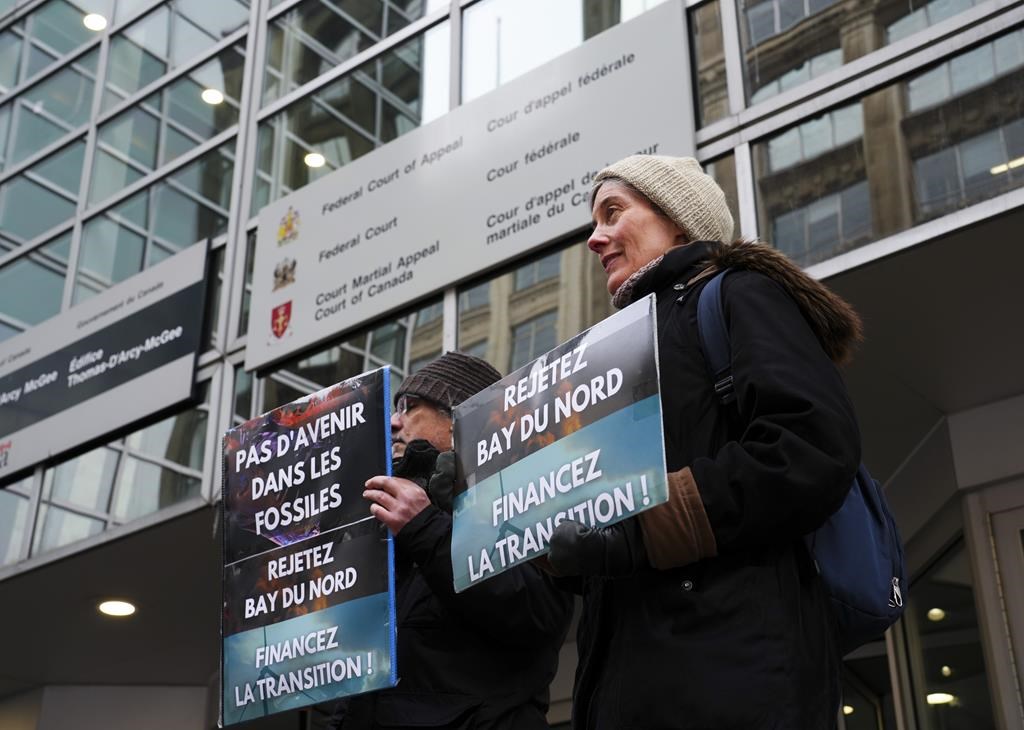 Posted March 1, 2023 6:33 pm.
OTTAWA — The future of an offshore oil project in Newfoundland and Labrador is in question as environment and Indigenous groups ask a federal judge to tear up the approval that would allow the project to proceed.
The case could also determine whether Canada's environmental assessment process has to consider global climate impacts from the end-use greenhouse gas emissions of Canadian oil and gas production.
In a hearing Wednesday, lawyers for Équiterre, the Sierra Club Canada and Mi'gmawe'l Tplu'taqnn Inc., which represents nine Mi'kmaq communities in New Brunswick, said the government's environmental review process for Bay du Nord was seriously flawed.
"We are asking the court to quash the minister's decision," said Ecojustice lawyer Josh Ginsberg.
Ecojustice is handling the legal arguments for the groups challenging the Bay du Nord approval.
Ginsberg said the approval granted by Environment Minister Steven Guilbeault in April 2022 was both "unreasonable and unconstitutional" because it didn't take into account total greenhouse gas emissions from the oil produced. 
He said it also ignored concerns from Mi'gmawe'l Tplu'taqnn about oil spills from tankers in the North Atlantic Ocean and failed to properly consult the Mi'kmaq about the project.
Bay du Nord is located about 500 kilometres northeast of St. John's in the Flemish Pass basin of the North Atlantic Ocean. Owned by Norway's Equinor, the project could produce between 300 million and one billion barrels of oil over 20 to 30 years.
Guilbeault authorized Bay du Nord after an Impact Assessment Agency of Canada review concluded the project would not have substantial environmental impacts, would produce one-fifth the average emissions of Canada's oil production, and included a condition that it be net-zero by 2050.
He has called it one of the hardest decisions he has ever had to make, coming after he spent years as an environmental activist fighting new fossil fuel projects. In an environmental and political twist, Guilbeault was one of the founding members of Équiterre, one of the organizations now challenging his approval.
A written statement from Guilbeault's office said he would not comment on the court case, but noted the environmental review was "rigorous and thorough" and the project is in keeping with Canada's climate goals.
But Ecojustice lawyer Anna McIntosh told the court Wednesday that almost a year before Bay du Nord was approved, the International Energy Agency said that no new fossil fuel projects should get the go-ahead if the world is still to keep global warming in check.
She also said the Impact Assessment Agency should have considered not only the emissions that come when the oil is produced but also those that result from the oil being burned.
Data submitted by the World Wildlife Fund during the review process showed that over three decades, 90 per cent of the total emissions associated with the oil from Bay du Nord were from burning the oil for energy, or what is termed "downstream emissions."
"This evidence was uncontroverted," said McIntosh. "It was also ignored."
Sean Sutherland, the lawyer representing Equinor, said the company hasn't specified where the oil would go or how it would be used and said assigning responsibility for end-use emissions is not reasonable.
Sutherland said ultimately that is a big part of what this case is about: whether a Canadian environmental assessment is responsible for downstream emissions.
Sutherland similarly dismissed the arguments raised by Ginsberg about not taking into account the environmental impacts of increased oil tankers in the North Atlantic.
Ginsberg argued that the review ignored concerns about the potential for an oil spill raised by Mi'gmawe'l Tplu'taqnn, which was the consulting agency of record for eight of the Mi'kmaq communities it works for.
Ginsberg said another 78 tankers a year are expected in migration routes the communities rely on for fishing and cultural practices, and could seriously harm species that are already seriously threatened.
"MTI has brought this case to ensure that every precaution is taken to safeguard the way of life of its communities from sustaining further harm," he said.
"And yet Canada failed, and indeed, explicitly refused to consider those impacts as part of the Bay du Nord environmental assessment."
Sutherland argued the environmental review did consider marine shipping impacts within what he called the "project safety zone," a 30-square-kilometre area around the floating platform where the oil is pumped first.
He said asking Equinor to be accountable for shipping the product outside that safety zone, on ships not owned by Equinor, and along routes that aren't yet determined, is not reasonable.
This report by The Canadian Press was first published March 1, 2023.
Mia Rabson, The Canadian Press